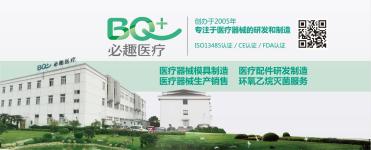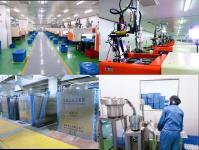 BQ Plus Medical
is a modern medical device manufacturer who owns a land area of over 10,000 square meters, a team of 200 people, advanced equipment and management system. In February of 2015 BQ Plus Medical is blessed with a new round of development opportunities. We have acquired and merged all the equipment and molding tools, employees and businesses of Shanghai Yu Xing Medical Device Co. Ltd. and moved the company to the new plant area, laying a solid foundation for further development.
BQ Plus Medical, engaged in the production of medical parts for 12 years, has an experienced production team to lead 200 trained frontline employees in production activities according to orders of customers. Now BQ owns an Class 100,000 Clean Room with 4,000 square meters, 27 injection molding machines, 11 extruders, ultrasonic welding machines, ultrasonic cleaning machine, UV curing machine, soft and hard plastic packaging machines as well as all types of automatic assembly equipment.
BQ Laboratory is fully equipped to conduct various experiments including biological experiments such as sterility test, initial bacterial contamination test and pyrogen test; physical experiments such as particle pollution, leakage, tensile test, liquid filter; chemical experiments as purified water monitoring, residual ethylene oxide test; environmental monitoring experiments like sedimentated bacteria, airborne particle in clean room, wind speed/ventilation rate, pressure difference, temperature and humidity monitoring.
Laboratory assures BQ's capability to evaluate the result of our quality control procedure. While daily quality management system is even more important. BQ Plus Medical obtained the German TUV ISO13485 certifications and product CE certification back in 2005. However, we believe that persisting efforts and unceasing improvement are required for the operation of the quality system of medical equipment. Nelson Medical implements strict control on every step, from incoming inspection of raw materials to process control of parts manufacturing, from product assembly testing to finished product inspection, and keep rigorous document records, ensuring the traceability of all products. Quality is achieved through production not through inspection. Every BQ employee has a deep understanding of his/her own duties and missions.
BQ Plus Medical is also known as a professional supplier of ethylene oxide sterilization services, possessing four sterilizers of 20 cubic meters and two sterilizers of 6 cubic meters. It has been granted with the business license and the EU ISO11135 certification and registered in the US FDA, capable of satisfying the sterilization needs of BQ's self-made products as well as providing sterilization services to the medical equipment industry peers in Jiangsu, Zhejiang and Shanghai.
The value of an enterprise derives from the happiness of its employees and the satisfaction of customers. We are making every effort to create a happy home for our team, because only a happy team will win the heart of happy customers! BQ Team have never stop challenging ourselves, to create value for customers, and to become the most professional manufacturer of medical parts in China!